My grandfather had the green thumb of the family. Each year he cultivated a patch of soil, took care planting a variety of veggies, herbs, and flowers. And in a few short months, the fruits of his labor were ready to pick. Every summer I had the privilege of chowing down on fresh cucumbers, zucchini (gagoots), lettuces, three types of tomatoes, green beans, onions, garlic, basil, and parsley. The fragrant aromas wafted through my back window in my apartment, bringing fragmented childhood memories of farms and veggie stands of North Jersey to the present. He and my great-uncle had a friendly growing competition each year. Back in 2001, I caught my great-uncle digging around in my grandfather's garden. Turns out he was playing a joke on my grandfather and planted a watermelon next to his pumpkins.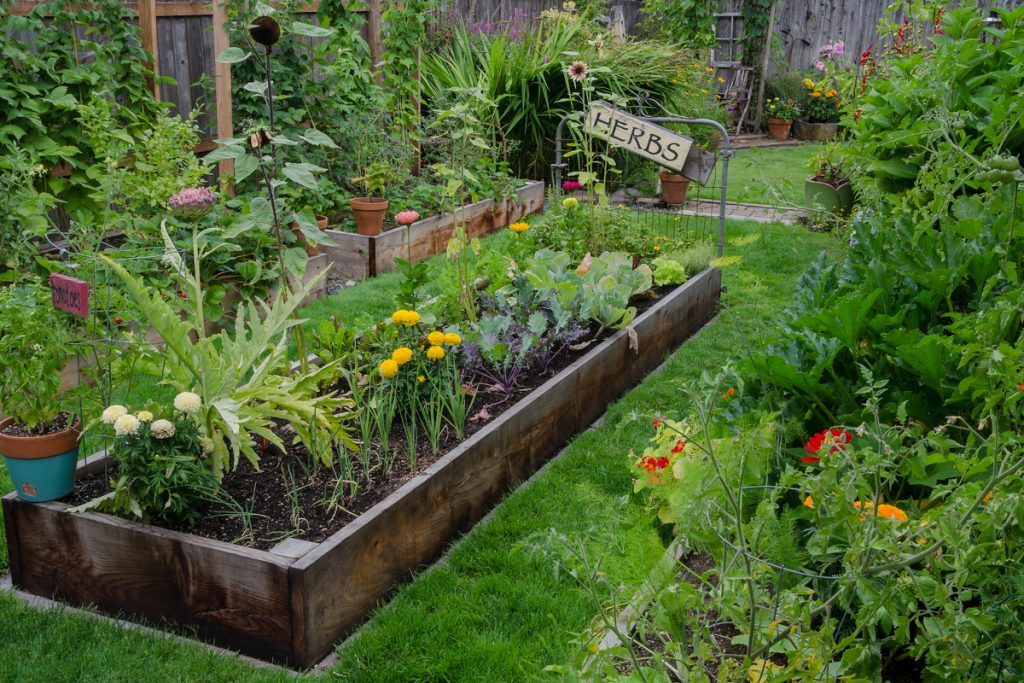 Grandpa didn't treat his garden with pesticides. And he rarely used fertilizer. One of his "secrets" was composting his own soil. He had this huge drum in the back corner of his yard. All his compostable scraps would find their way into the drum. When I lived next door to him, I added my own scraps, too. After expressing an interest in growing my own herbs, my grandfather set up a little area next to my back stoop. He filled the space with his nutrient-dense soil, the perfect growing fodder. Rather than planting baby plants, I sowed seeds. While I was a little late to plant them (it was late-June in NJ – I should have started in May), my seeds germinated into healthy herbs. I was really into making my own teas at the time, so the herbs I planted included chamomile, skullcap, catnip, and mint. My back stoop became a popular stomping ground amongst the neighborhood stray cats, thanks to the catnip. But it also made a fantastic tea.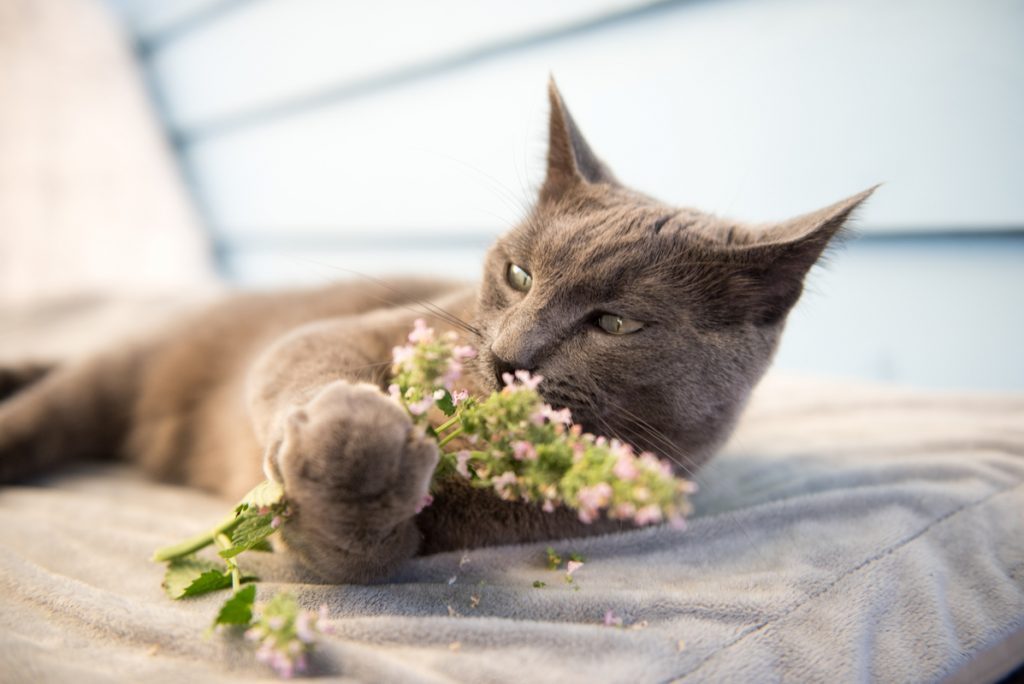 I was also very fond of using fresh herbs in my cooking. The fragrant aromas carried by a warm breeze into my home has always had a nostalgic feel for me. It reminds me of a time when life was simpler, a time when I could appreciate nature around me. Like taking a deep breath of fresh basil and parsley plants – the fragrance so appetizing it would make my tummy grumble.
As I said, grandpa had the green thumb of the family. But he did teach me a few tips for gardening, which I hope to employ creating my own garden soon. One day in late April I had asked him when he was going to start planting his garden. He explained to me that even though the local farms were selling starter plants, the unpredictable spring weather in NJ did not guarantee that we were free from overnight frost until mid- to late-May. Grandpa said that the soil temperature wasn't ready for seeds or young plants. Ideally, it needed to be a moderate temperature, above 50-degrees. (You can easily test soil temperature using a food thermometer.) Personally, I prefer to start my seeds indoors and plant outside when the temperature warms.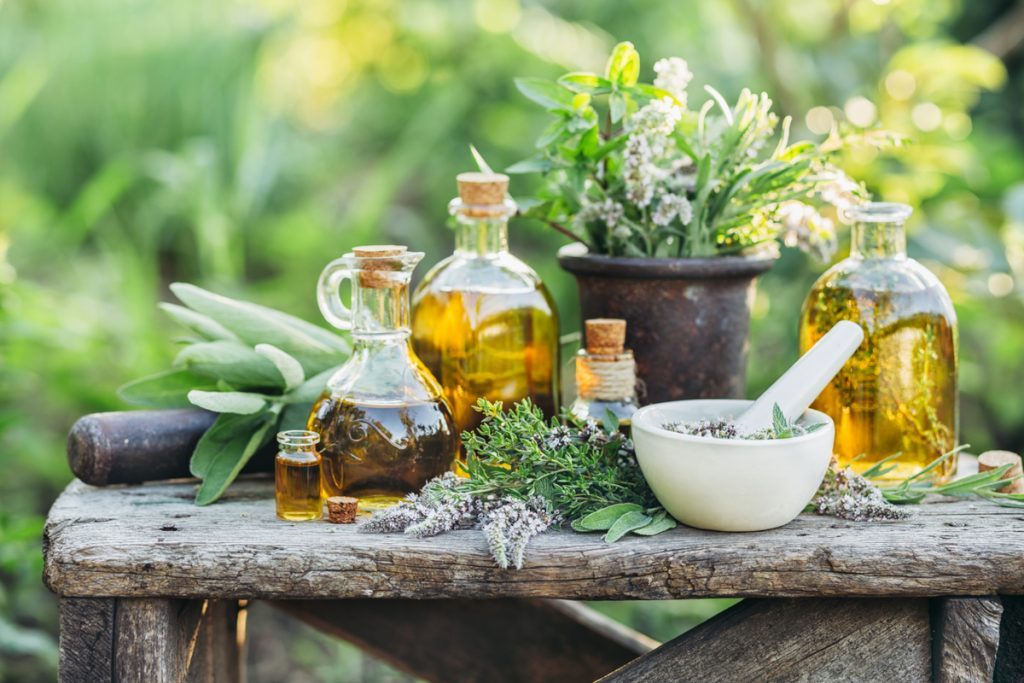 Herbs are wonderful. Not only do they add pizzazz to culinary dishes, but they're also packed with nutrients and have medicinal properties. Here are 5 herbs that are a must-have to your culinary herb garden. And they're easy to grow for folks just starting to get their thumbs green.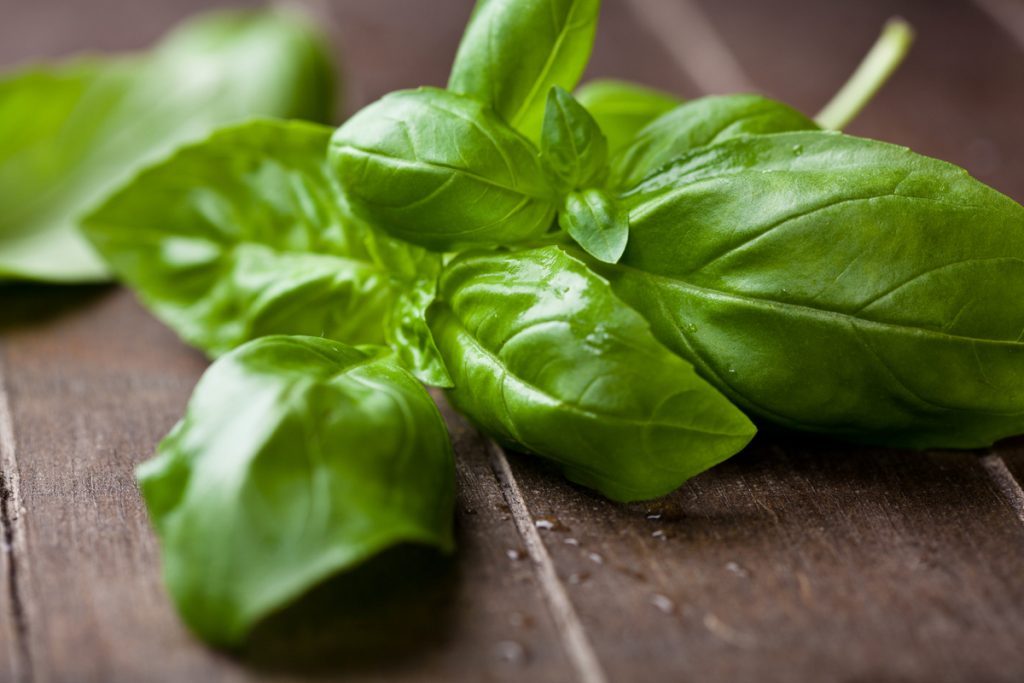 Basil
Part of the mint family, basil is known for its anti-inflammatory properties. This delicious herb is common in Italian, Indonesian, Thai, and Vietnamese cuisines. Basil requires a soil temperature of 70°F to grow properly, so if you live in a cooler climate, you may want to start your seeds indoors. This light-loving herb is rich in nutrients: Vitamin A, Vitamin K,  magnesium, iron, potassium, and calcium. Ever overeat and have bad feelings of fullness or indigestion? Basil can help! It is great for calming the stomach. Basil is delicious in pesto, dressings and marinades, vinegar and oil infusions, sauces, and soups. Not to be confused with the artist that painted Dorian Gray's portrait.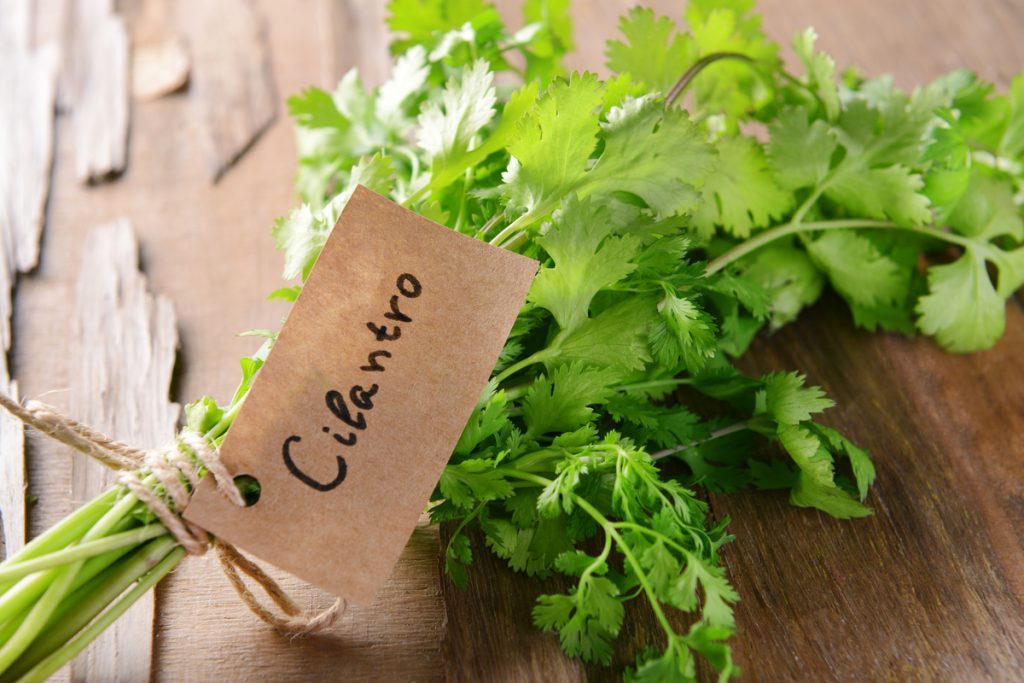 Cilantro / Coriander
Coriander satvium, or Cilantro (the Spanish word for coriander), is an herb you either love or hate. It's fairly easy to plant, requiring a soil temperature of only 60°F to flourish. And it only requires partial light. Cilantro is rich in phytonutrients, flavonoids, phenolic, and aldehyde compounds. Plus, this easy-to-grow herb contains dietary fiber, Vitamin A, Vitamin C, Vitamin E, Vitamin K, calcium, iron, potassium, and magnesium. Turn boring oil into a tantalizing experience for your taste buds by infusing it with cilantro. This delicious herb tastes great in sour cream, rice, salad dressings, and is perfect in chutney.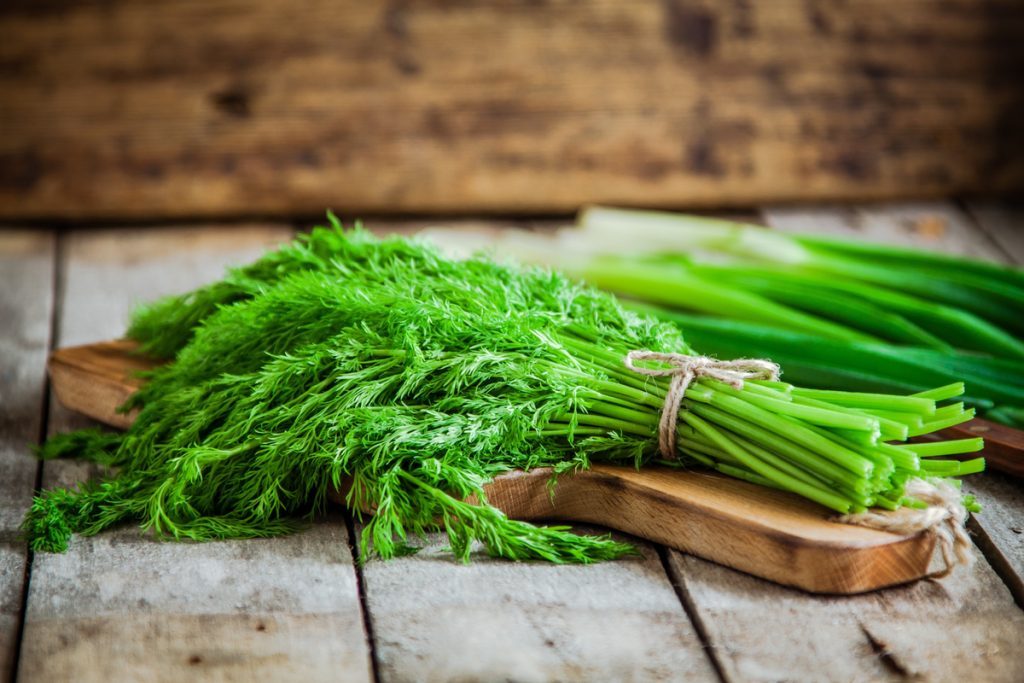 Dill
Want to give your digestion a boost? Then you need to plant some dill.  This light-loving herb requires a soil temperature of 65°F. Dill stimulates the secretion of bile and digestive juices, as well as the peristaltic motion of the intestines. Its strong, tangy flavor is appetizing and tasteful. Dill contains compounds called monoterpenes (specifically limonene, carvone, and anethofuran), flavonoids (vicene, kaempferol), minerals, and some amino acids. It's also rich in Vitamin A and Vitamin C and contains a little folate, iron, and manganese. Dill belongs to the same family as parsley, cumin, and bay leaf. For a tangy dip, add dill to yogurt and cucumber. Dill pairs great with fish and tastes great in salad dressings and pickle brine.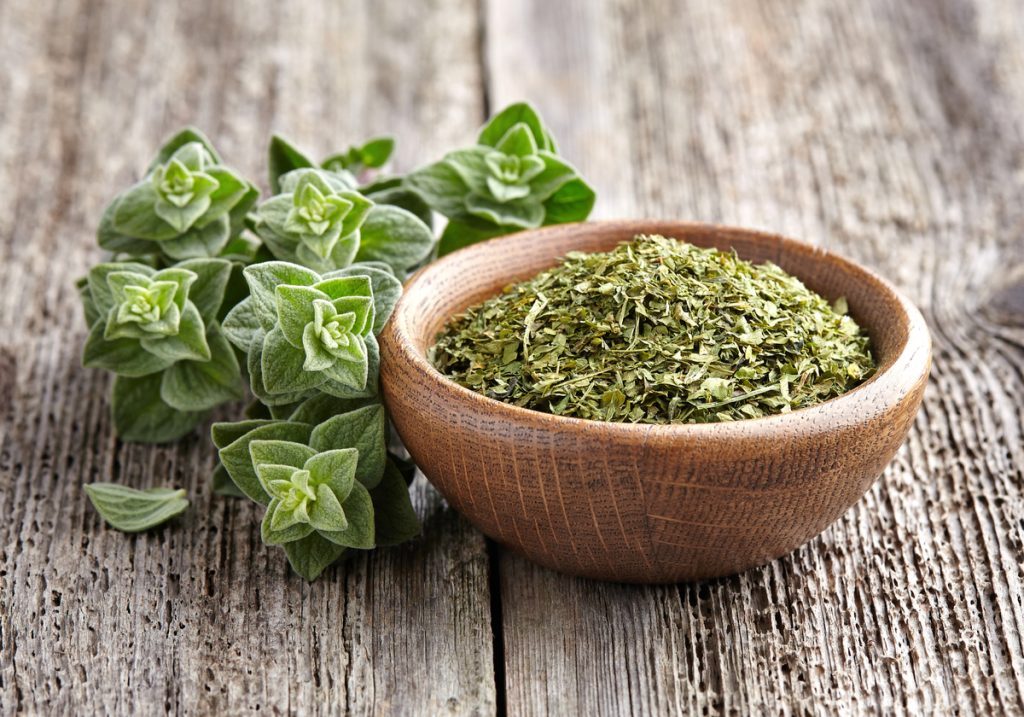 Oregano
Oregano is a must-have herb in Mediterranean and Mexican cuisine. Like basil, oregano requires a soil temperature of 70°F, but only needs partial light to grow. It contains Vitamin K, manganese, iron, calcium, and fiber, and also contains the phytonutrients thymol and rosmarinic acid. Oregano inhibits the growth of Pseudomonas aeruginosa and Staphylococcus aureus. It adds a warm, balsamic flavor to foods in which it's amalgamated. Oregano is the perfect garnish on pizza, adds robust flavor to sautéed mushrooms and onions, omelets, frittatas, and salad dressings. Add a sprig of fresh oregano for a flavorful infused olive oil. Or, add to an ice cube tray and cover with water or stock and freeze – then add to your sauces, soups, or stews.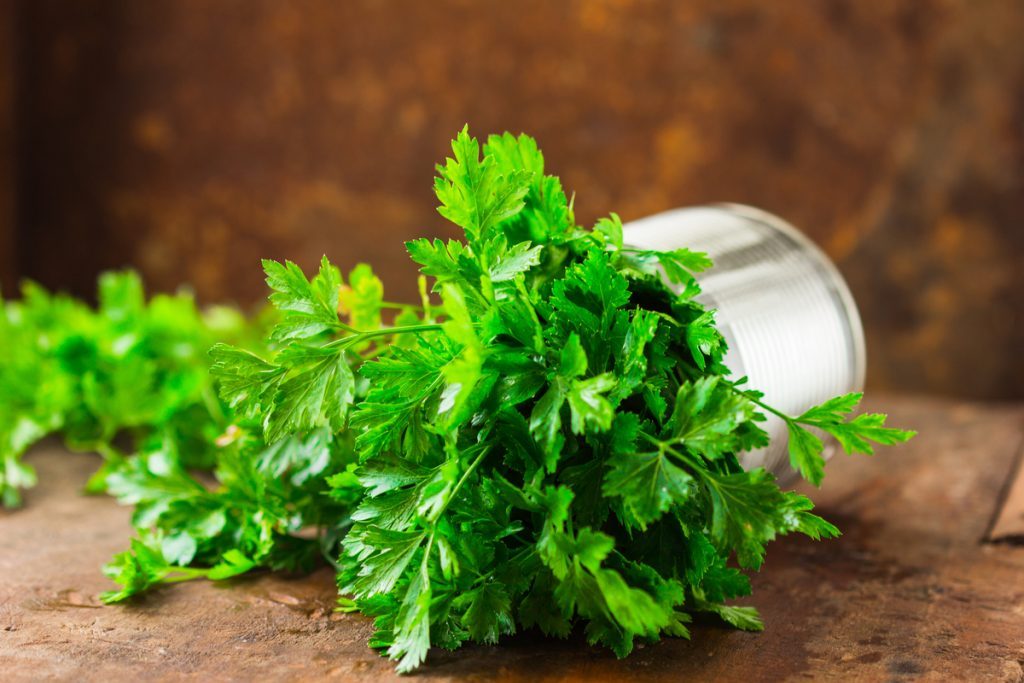 Parsley
Parsley is often underappreciated and considered a garnish, but it's full of flavor and nutrients. Requiring full light and a soil temperature of 70°F, parsley has a vibrant taste that excites taste buds. It contains Vitamin A, Vitamin B1, Vitamin B3, Vitamin C, Vitamin K, folate, iron, copper, potassium, magnesium, fiber, calcium, manganese, phosphorous, and zinc. Parsley also contains volatile oil compounds (myristicin, limonene, eugenol, and alpha-thujene), as well as antioxidant nutrients, and folic acid for a healthy heart. It is an essential ingredient in the Mid-Eastern dish tabbouleh and perfectly complements pesto, soups, stews, salads, and vegetables.  Parsley also pairs well with chicken, lamb, beef, and grilled fish.
What herbs are you planting this season?