Kitchens are a notoriously difficult place to keep clean. They are surprisingly germy places and drop zones for everyday items and clutter. Plus, it doesn't take long for them to accumulate food stains from whatever meal it is you're cooking. 
Cleaning your counter should be an almost daily routine as it will give you a clean cooking space and look immaculate when you have company. The less clutter on your counter, the easier it will be to clean. Plus, cleaning up your kitchen will actually make you happier.
So, why wait? Try these tips for a clean kitchen!
Keeping your home free of clutter is hard enough already. Trying to hone in on just the kitchen counter requires a similar approach that favors organization. Since there are many small items that build up over time, you will want to make sure you start by removing items that are not necessary. Storing as little as possible on the counter is the best way to start. Figure out what can be moved to the cabinets (more on those soon) and free up all the space you can. A clean counter is more likely to stay clean, after all!
Items like cooking spray, paper towels, and sponges are all things that can be tucked away in cabinets or, in the case of paper towels, hung under a cabinet to save counter space. Try to only have items that are absolutely essential on the countertop (think coffee maker). Consider something like an in-sink drying rack so that you don't need to use the counter space while waiting for them to dry. 
If you haven't considered it already, look into installing your microwave either above the stove or in a low cabinet. Low microwaves are now in style and have the added benefit of giving you more space on your countertop. While you are at it, see if you can get a pull-out cutting board to declutter further.
2.) BOWLing League: Designate a Junk Bowl
If your family is prone to tossing things like mail, keys, or other tchotchkes on the available counter space, consider having a "junk" bowl to collect these in. You can then sort through it next time you clean and put its contents where they belong. You can get more pointed and have a special mail holder on the wall or key ring to keep these items from winding up on your counter.
You could also consider trays or turntables to house these items. They make for a nice spot to place items you constantly need, like salt and pepper or olive oil, too. A small countertop lazy susan is also a great place to store some frequently used spices. Again, we are trying to save space on the counter, so the cabinet is best for those items, but if real estate is limited, these hacks will make things appear more orderly.
There is probably not a more cluttered area in your kitchen than the cabinets. We have all seen the black and white infomercials where the excess bowls and Tupperware come falling down, crushing the poor person who dared open the door. 
The easy fix here is to organize where bowls, pots, pans, plates, and Tupperware belong. A new trend in cabinet organization makes use of stackable bowls and Tupperware for easier storage. Try to purchase these whenever possible to free up space and make cabinets more organized for a cabiNet-gain instead of cabiNet-loss!
4.) Do Knives Make The Cut?
Some people opt to keep their kitchen knives in the drawer to free up space, but an equally appropriate place is on the wall. Consider installing a magnetic knife rack to hang your knives on. Clean out any old or dull knives while you are at it. You will be better served investing in a top-quality knife set with a sharpening tool than routinely buying new knives as the old ones dull. 
If you do have old knives or silverware, consider a cylindrical jar to place them in and hide them below the cabinet in case you have more company visiting than your current set can handle.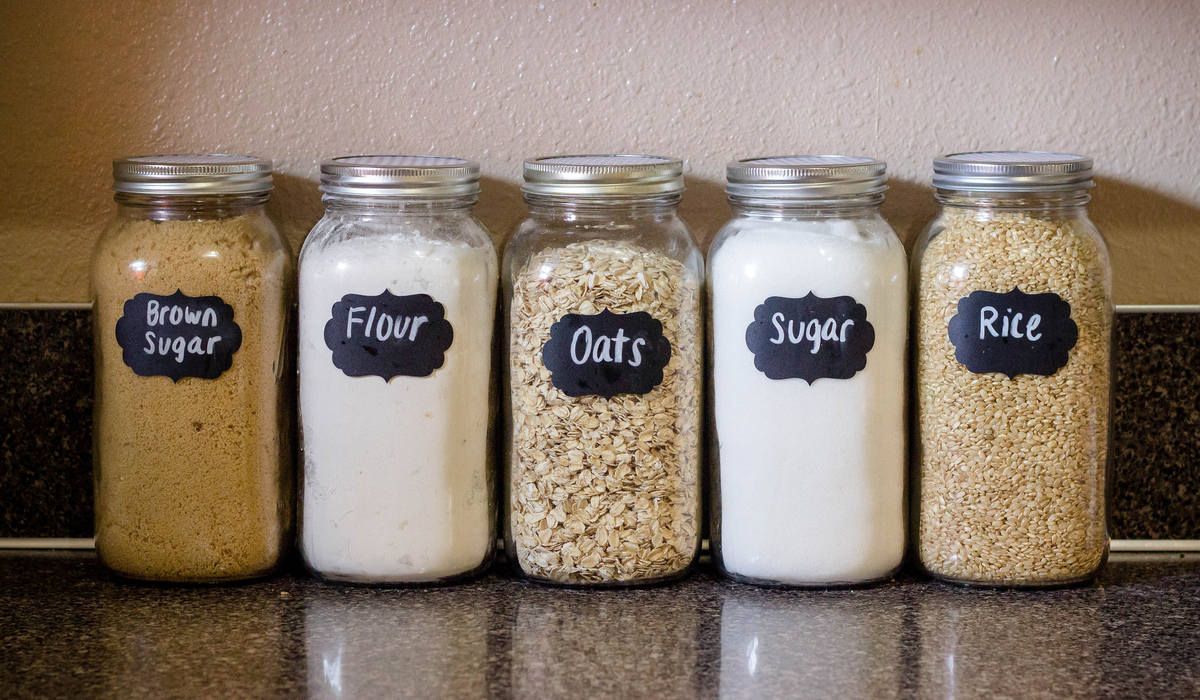 Mason jars or any glass jars are a stylish way to clean up your countertop. You can fill them with items such as flour, sugar, or oats. For those with kids or with a sweet tooth, fill one with gummy bears or M&Ms! They will bring fun colors to your backsplash. 
Fill these jars up and push them against the wall. They will have the added benefit of clearing out cabinet space and, in the case of flour or sugar, removing unsightly and messy bags. You can even get them in different sizes and arrange them from tall to small.
Your content goes here. Edit or remove this text inline or in the module Content settings. You can also style every aspect of this content in the module Design settings and even apply custom CSS to this text in the module Advanced settings.
6.) Storing Upright Can Never Go (Up)Wrong
If you have long spoons, spatulas, or annoying whisks taking up precious real estate in your drawers, consider moving these items into a classy upright container on the kitchen counter. This way, they will be easier to grab and always within reach when you are in the middle of a recipe.
You can also choose something decorative that will liven up the room. Consider adding a small matching vase next to the container and putting a dried flower in it. You can also have a separate one for flatware that you simply place on the table, freeing up more space in your kitchen drawers.
If you haven't already, make sure that you try to divide your counter into separate sections. The area next to the stove can be for your newly-upright spatula, and the area next to the sink can be where you hang your new paper towel dispenser. This makes items easier to find but also more aesthetically pleasing and neater.
While you are at it, group things together. It makes your kitchen choices look meaningful instead of messy. Things like cookbooks and oils can be bunched together to look more artistic and intentional.
8.) Cookbooks in Their Own Nook
Speaking of cookbooks, it is better to clear them off the counter and place them on a shelf. If you want to display them, consider having them on a high shelf in the kitchen or even taking them out of this room completely and placing them on a bookshelf in the other room. Remember, we are trying to declutter this area, and having books in the way might lead to more of a mess. 
Your call, though! Frequent chefs may want to keep them on the counter and display them with pride. Just make sure to sort by size and keep them organized.
Keeping cookware stored away in your cabinets might be okay if you have space, but if you are trying to clear them out, don't hesitate to get creative. If you have something stylish or attractive like a Dutch oven, feel free to keep it on the stove and show it off. Alternatively, you can place these nicer-looking items on top of the fridge. Offset them next to something like a succulent to make the move look even more deliberate.
10.) Hook, Line, and Hangers
Hooks and hangers are maybe the best way to clean up your counter and kitchen and make the room more organized. Items like dish scrubbers and towels can take up counter space, so consider adding some removable or permanent adhesive hooks on the backsplash or next to the sink.
A hook-and-rail system is another option for storing kitchenware supplies. You can install one easily on the side of your cabinets and clear out the utensil holder on the countertop. A ceiling rack can also be installed to hang almost anything. Tongs or spatulas that normally take up drawer space can be placed here and kept within reach. If you have the space to set one up, you can place any item with an opening on it and accent it with a hanging plant.
Fruit baskets are another kitchen counter staple that can be removed to clean up the kitchen. Consider using a hanging fruit basket that will make use of vertical space and free up valuable real estate on your countertop.
Adhesive hooks can be put on the back of cabinets to store small cutting boards, oven mitts, or other kitchen tools. You can also stick shelves on the side of your fridge to hold these types of items—ditto for the sides of cabinets.
The Whole Kitchen Kaboodle
If you have followed this guide, your kitchen counter should be looking clean as a whistle! The important thing to remember is no kitchen is perfect, but you can take certain steps to make yours a place of pride instead of just the room where you heat up your frozen dinners!