The one thing I look forward to every holiday season is eating TONS of green bean casserole. I can't get enough of it! I concocted this recipe shortly after I switched to a vegan diet and haven't looked back. The soup is made from scratch and uses fresh mushrooms that elevate this casserole. It's the perfect side to any holiday meal, whether you have any dietary restrictions or not!
When I was allergic to mushrooms, I substituted finely diced celery. If you're not fond of mushrooms or have an allergy, celery works great!
Easily bake this green bean casserole in a 9X13 baking dish, a deep casserole dish, or disposable aluminum casserole trays. You can even make the soup and the casserole in one pan if you use Red Copper Square Pan!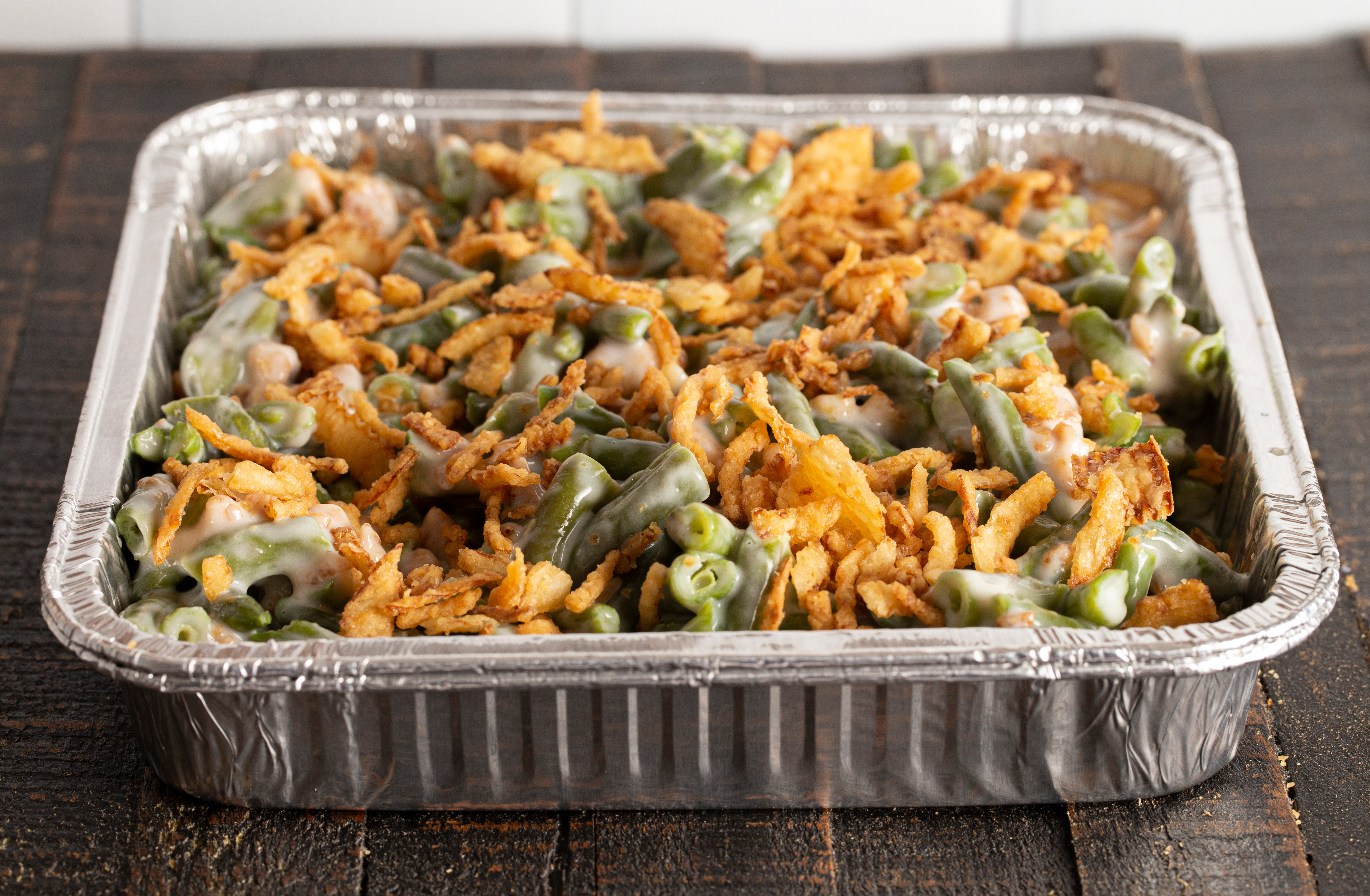 Ingredients
1-pound baby Bella mushrooms, diced (or finely-diced celery if you don't like mushrooms or have an allergy)
1 cup vegetable broth
1 cup non-dairy milk
3 tablespoons flour
1 tablespoon dairy-free margarine or butter + a little extra for sauteing 
1 package of fried onions
2 28-ounce cans of cut green beans, drained
1/8 teaspoon salt
1/8 teaspoon pepper
Directions
Preheat oven to 350°F
Saute the diced baby Bella mushrooms (or celery) in a little bit of butter over medium heat, approximately 8 minutes.
Add 1 T of butter and saute for another minute.
Stir in 3 T of flour and coat the mushrooms. Saute for 3 minutes.
Add 1 cup of vegetable broth and stir well. Heat for 5 minutes, allowing the broth to thicken slightly. 
Add 1 cup of non-dairy milk and stir. Allow to thicken as it comes to a boil.
Remove from heat. 
Add green beans in a casserole dish, then stir in the mushroom soup. Combine until the green beans are well-coated.
Add 2/3 package of fried onions and stir. Reserver remaining onions.
Cover and bake for 25-minutes.
Uncover casserole and add the remaining fried onions to the top.
Allow to bake an additional 5 minutes, uncovered.